What Is 3D Secure and Why Does It Matter for You?
When you shop, make a money transfer, or pay a bill online, your personal and financial data is at risk of being exposed or even stolen. In Europe alone, 60% of card fraud is associated with card-not-present (aka online) transactions.
Luckily, you can keep yourself safe from fraud thanks to strong security mechanisms like 3D Secure.
In this post, we explain everything you need to know about 3D Secure: what it is, how it works, and how it helps keep your data safe when paying online. Let's dive in!
What is 3D Secure?
3D Secure stands for 3-Domain Secure (3DS), it's a security protocol that enhances the security of card payments online.
As the name suggests, 3D Secure connects the three parties involved in an online transaction:
the payment recipient (such as a merchant website);
the card issuer (your bank);
and the payment network (Mastercard or Visa).
The basic principle behind 3D Secure is rather simple: your bank needs to confirm your identity in order to authorize an online payment.
So in practice, how does this look for you? Once you've entered your payment data, you will be directed to an authentication page on your bank's website. Here, you will be required to confirm your identity.
Identity verification can be done in various ways. Usually, you will be asked to enter your password or a unique code sent to you by SMS. Sometimes, you may be required to approve the payment in your bank's app.
The way 3D Secure works for your card(s) is up to your bank, so they can clarify any doubts you may have about 3DS for you specifically.
How we use 3D Secure in Fin.do
At Fin.do, security comes first.
When making a money transfer with Fin.do, you will be asked for a Mastercard Secure Code to complete 3D Secure authentication. Depending on your bank, this is what it might look like in your app: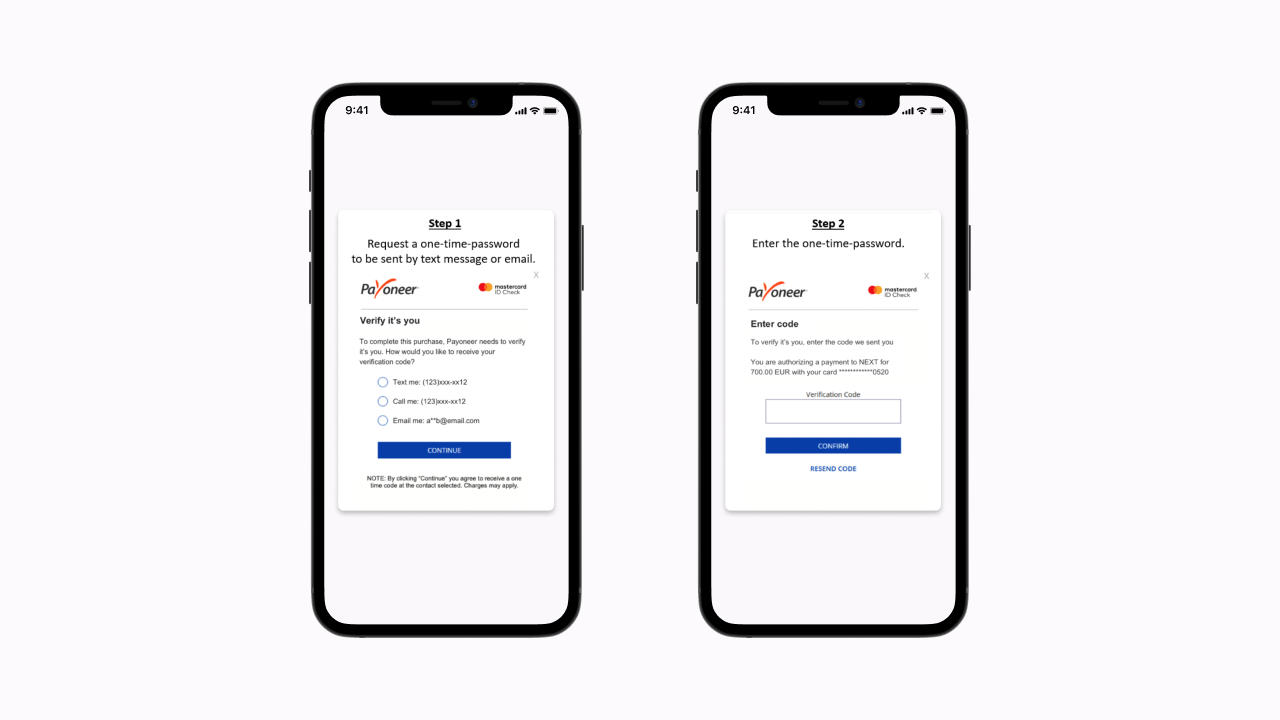 If verification fails, you should reach out to your bank to make sure 3D Secure is enabled for your card.
Did you know? We keep all transactions safe through several security features, including: 3D Secure; facial recognition and fingerprint passcodes; advanced fraud monitoring and detection.
Is 3D Secure really necessary?
The short answer is yes. While completing an extra verification step might feel annoying, remember that the purpose of 3D Secure is to add an extra layer of protection to your online transactions.
3D Secure authentication is now mandatory in Europe and is also widely used in other areas.
Its adoption by merchants and banks reduces the risk of fraud when paying online, offers better protection of financial data, and allows safer international transactions.
We hope this guide helped you understand what 3D Secure is and how it works so you can make your next online payment with peace of mind!
Safe transfers!